Topic 10
Topic 9
Topic 8 of 10 "Breaking Giving Up"
Topic 7 of 10 "Breaking The Burden"
Topic 6 of 10 "Breaking Plateau"
Topic 5 of 10 "Breaking Fear"
Topic 4 of 10 "Breaking Insanity"
Topic 3 of 10 "Breaking Despair"
Topic 2 of 10 "Breaking Denial"
Topic 1 of 10 "Breaking Through"
6:45 pm is Pacific Time
8:45 pm Central Time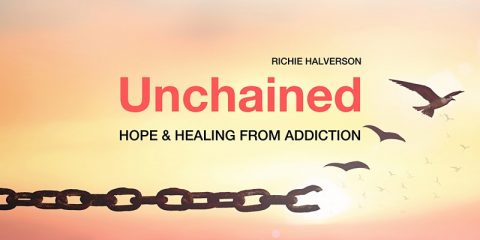 Unchained: Hope and Healing from Addiction (October 9-18, 2020)
Every night at 8:45 pm.
A short presentation that will take you to the edge of LIVING FREE.
 Richie Halversen
REGISTER TO PARTICIPATE
THERE IS NO COST TO YOU
FOLLOW THE INSTRUCTIONS AND CREATE AN ACCOUNT FOR FREE
About this Series
Unchained: Hope and Healing from Addiction is series of ten inspirational presentations and conversations designed to help people recover from addiction and reach their fullest potential in life. Each of the 10 sessions features an 18-minute presentation by author, speaker, and recovering addict Richie Halversen, followed by an interview with a guest who has overcome a specific addiction. Each live presentation in this series also includes a Q&A time with Richie and his guest.
Meet the Presenter
After years struggling with addiction Richie Halversen surrendered to a new way of life. His story is one of redemption and recovery. He now spends his time helping others find fulfilling lives unchained by addiction and destructive behaviors. He has been married to his wife Brittney for over 21 years. They have four children: Kaleb, Hayley, Tristen, and Taylor. He enjoys writing, reading, listening to music, and hiking with his family in the mountains in and around Chattanooga, Tennessee.
SERIES CONTENT
1. Breaking Through Available on October 9, 2020 8:45 pm CT
2. Breaking Denial Available on October 10, 2020 8:45 pm CT
3. Breaking Despair Available on October 11, 2020 8:45 pm CT
4. Breaking Insanity Available on October 12, 2020 8:45 pm CT
5. Breaking Fear Available on October 13, 2020 8:45 pm CT
6. Breaking Plateau Available on October 14, 2020 8:45 pm CT
7. Breaking The Burden Available on October 15, 2020 8:45 pm CT
8. Breaking Giving Up Available on October 16, 2020 8:45 pm CT
9. Breaking Selfishness Available on October 17, 2020 8:45 pm CT
10. Unchained Available on October 18, 2020 8:45 pm CT
IMPORTANT ANNOUNCEMENT
                      October 2020
Following CDC and Minnesota Governor advice, 
Here are some changes that everyone needs to know:
We will fill only 50% of the capacity of the sanctuary.
Keep social distance among member homes.
To keep people safe we are kindly ask everyone the use of mask. (Except children under 2) We will have masks available, or you can bring your own.
We will respectfully and kindly check your temperature with a non-touch thermometer. We want to do our best in caring for each other.
There will be no children Sabbath school programs. Special program will be presented having our children in mind.
IF YOU ARE STAYING AT HOME... We invite you to join our VIRTUAL Sabbath Services.
10:00 am Sabbath School/Bible Study
11:15 am Worship Service
Using your smartphone you will need the App. "Zoom"
You can join our services here:
Join Zoom Meeting
https://us02web.zoom.us/j/121440116?pwd=L09KSkkyNlFMZ3VQTFFDeXdIR2l6dz09
Meeting ID: 121 440 116
Passcode: 864848
One tap mobile
+13126266799,,121440116# US (Chicago)
+19292056099,,121440116# US (New York)
You can also join making a phone call to:
        +1 312 626 6799 US (Chicago) or
        +1 929 205 6099 US (New York)
Meeting ID: 121 440 116#
 
Children are very important. During these unique times we live in, our conference is providing resources from different ministries that can help parents minister the hearts of their children. Click on the picture and you will be directed to MN Children Ministries.
Welcome to the Mankato SDA Church in Mankato, MN. We are a Christian community and would love to have you join our family. To learn more about what we believe you can visit our About Us page. Please join us for Bible study, worship, and prayer.
Phone: 507-625-8625
Join Us This Saturday
Sabbath School: 10:00A
Worship Service: 11:05A